85A Motion Pictures offer you a rare chance to become an extra in the final shoot of their sure fire blockbuster:
"THE HUNT FOR THE RATTUS ORLOVA"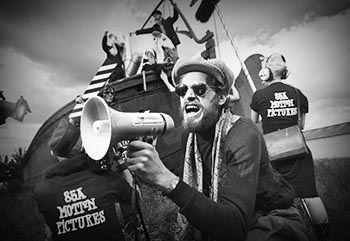 Director Rudolph Maria Häagen-Dazs tells the story of a seemingly abandoned salvage ship, crewed by mutant cannibal rats under the command of a salty captain, as it scours the flotsam and jetsam of the deep murky Commonwealth Ocean for mysterious treasures.
Featuring live music from a host of Glasgow's most excellent musical maestros, beguiling stunts, epic set pieces, and state of the art film technique applied by five star, award winning real life cinema gurus.


featuring:
Music by:
Gypsy Romania, Golden Teacher, Halfrican, Mungo's Hi-Fi, Capone & The Bullets
Performers:
Commonwealth Youth Circus
(Cathi Sell , Cory Johnson, Hannah Lennox, Alyssa Brough, Will Borrell, David Ullrich)
Paul Donnelly
85A and friends

BACKSTAGE
Catering for all from the Scran Collective and bar by Williams Brothers, DJ sets till dusk, film themed quizzes and sountrack bingo hosted by Afrodeesia and the inimitable Penelope Darling.



AFTER DARK
Come dusk the film set transforms into a stunning open air cinema. Showcasing special artist commissions from Torsten Lauschman and Chris Leslie, alongside a screening of the acclaimed Scottish film Seawards the Great Ships, set to the brand new live score performed by DJ Skizzwang. Hosted by Louna productions
Reviews:
The Scotsman
Vile Arts Blog
Kiltr
Future News