Ever fancied a Wheatgrass Mohawk, Chelsea-Cut, or Pompadour? Grab a drink and settle into the chair, then tremble before the awesome styling power of the barber's hedge-trimmer! The clippings? Juice them down for a smoothie!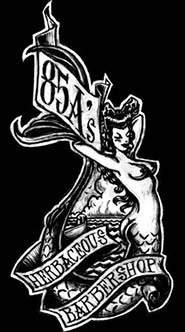 Driven out of their native village by a baying mob, accused of cutting up townsfolk and pulping them down for 'bovril smoothies', the 85A band of renegade barbers found themselves cowering as stowaways on the first rum-boat out of Port Mumu. The cargo hold was cramped; supplies were scarce. In the long, confused, randy weeks living on rum and water alone almost all hope was lost, until Comrade Judd discovered a tiny sack of seeds...  
In the crowded cargo bay with no sunlight, no air, no space: drastic action had to be taken. Famed for his filth, entire fistfuls of soil were scraped from Helmet's manky hair. Seeds and soil were shared around from scalp to scalp; covert trips above deck provided sunlight. By the time the fugitive crew of barbers made it to Boomtown, their system of 'cranial cultivation' had become unstoppable!