FILM PREMIERE/
RENEGADE MASKERRADE//
AFTERPARTY
The Scotsman Interview
***** review (The Skinny)
Preview by Gareth Vile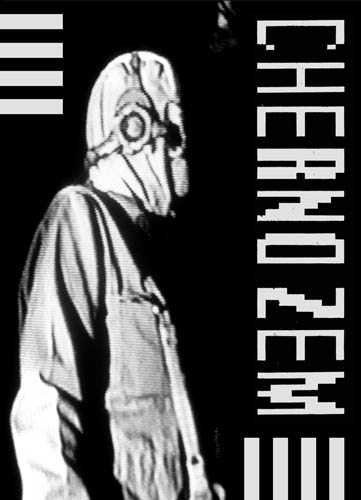 Mask Pit cast:
Dita and Hotrod:
Ruth Laila Steffensen & Rik Morgan
Chain Gang kRump:
Ashanti Harris, Julia Scott, Sinead Hargan, Daniela Corda, Romany Dear
Geishas: Zoe Williams, Casey Oconnell, Zephyr
Leather Boys: Siobahn Lawson and Laura Hughes
Slave Catchers: Burkie and haraS
Southern Fried Chicken Man:
James Stephen Wright
Ardi :Sita Pieraccini
Phoenix Star : Melanie Forbes Brooms
Harriot Hare : Cath Whippy
Duuk Duuk : Calum Macaskill
Militia : Blanche and Charlene
Ring Girl : Tarten Heather
Paraphilia : Lou
Slasherrs : Mistres's Lekka and DD
DJs : Neil D, PVK & 85A in house DJs.
Bands : Sister Dead Foot and Golden Teacher.
Part 3
CHERNOZEM AFTER PARTY
>With 'Golden Teacher'
(Hypno-psych voodoo groove)
and the bombastic big, big beats of the legendary 85A djs
To complete the triptych of CHERNOZEM's mighty premiere, bear witness to our special guests in the form of the hypnotically divine Golden Teacher, enthralling the masked crowds with their polyrhythmic palpitating sounds.
Then 85A djs will be dropping the most mental bush-burning beats this side of Zef! "Loud enough to knock you down!!"
85A unleashed a cinematic barrage with the premiere of 'CHERNOZEM' - Judd Brucke's debut industrial horror film - which kicked off with a dystopian masquerade party at The Flying Duck, then rocketed the audience towards the GFT in a riotous parade - followed by a total rinse-out back at the 'Duck with special guests Golden Teacher. An unmissable night!
Part 1
85A's
RENEGADE MASKERRADE
Pre-screening masked ball with a concert by 'Sister Deadfoot' (Footstomping hillbilly-bop) followed by an astonishing showcase of your hyper-costumes, freekish masks, blazing soundsuits and bitchin' style!
Teetering on the edge of civilization, beneath the tidal flows of technology, led by a gang of costumed outcasts, geishas and gichts in the blackened folds of our metropolis, bursts...
'85A's RENEGADE MASKERRADE', where the engine oil liquor flows like wormwood from the skies and your dreams are full of bare-footed voodoo sex.
This mad subterranean bar in the hidden depths of the near-future, enveloped by flotsam, jetsam and incubuses of the night, is only eclipsed by the ravishing, sand-strewn fashions of these exotic denizens as they lose themselves in the pulsing lights and glide uninhibited along the alluring catwalk into the frenzy of the Mask Pit!
Part 2
CHERNOZEM
Film Premiere
(J.Brucke, 2013,1hr 15mins. B/W)
Burrowing through the dark vein of German Expressionism and Soviet propaganda films comes the premiere of CHERNOZEM ('Black Earth'). Written and directed by Judd Brucke and produced by the Glasgow based multi-disciplinary art collective 85A, this is a horror tale of a man with a factory for a head that struggles for survival in a post-apocalyptic world.

Paying aesthetical homage to Weimar-era cinema and industrial documentaries, this is thematically a classic chase-movie wrapped in the cloak of the Kunstmärchen. Shot entirely on VHS and filmed in the hidden, crumbling shadows of a bygone era, CHERNOZEM not only serves as a sideways document to Glasgow's fading industrial past, but strips Hi-def. films right down to the bone, stoking the fires of deracinating, thunderous filmmaking!